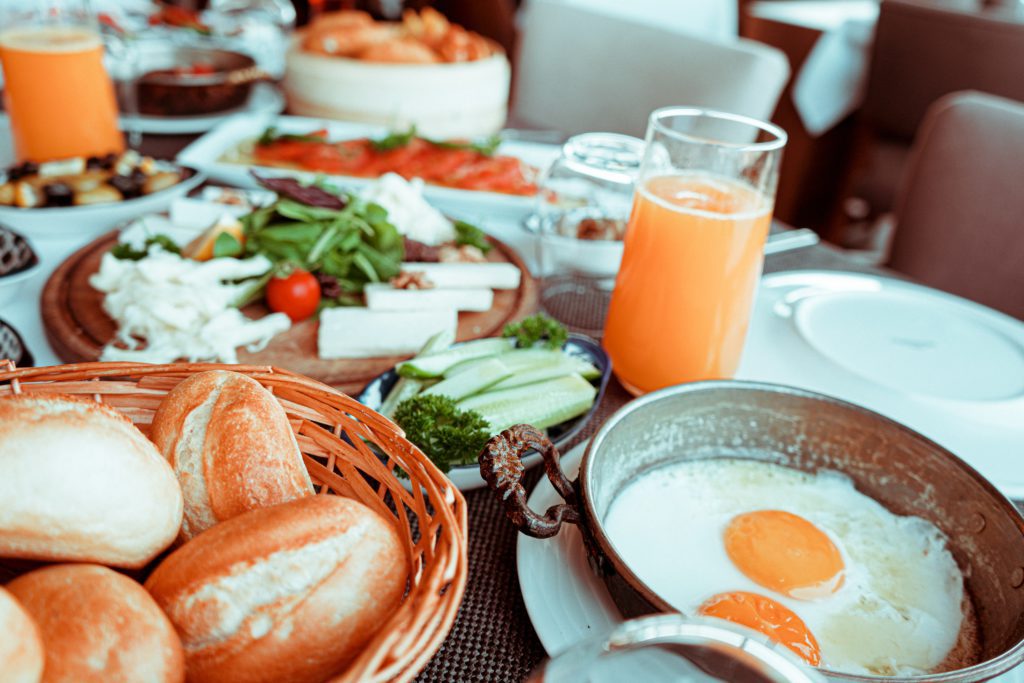 5 Delicious Brunch Places in Barcelona
Are you a breakfast and brunch lover? Do you enjoy drinking coffee in aesthetically pleasing locations? In this list I suggest my current favorite trendy brunch places in Barcelona.
1. Bohl
Address: C.Trafalgar, 47 08010, Barcelona
Price Range: 6.5 – 14 eurosVegan/Vegetarian Options: Yes
Situated near the stunning Arc de Triomf, the minimalistic décor is an interesting change to the rest of Barcelona's cafés. Aside from its trendy interior appearance, the café offers a variety of delicious vegan and vegetarian options. A personal favorite is the rawtella smoothie if you want a sweet but not too sugary drink. If you want to combine food and working, you can also do so here. Another pro (or con if you're allergic to dogs) is that the café is pet friendly!
2. Almalibre Açaí Bar
Address: Carrer de Girona, 118, 08009, Barcelona
Price Range: 8 – 15 euros
Vegan/Vegetarian Options: Yes
The service is fast, and the staff is attentive. The inside feels like a calm oasis, in which you can take a break from the busy city. One can enjoy its colorful interior that is nicely enhanced with plants. The café is known for its delicious and filling Açaí bowls, but it also has relatively cheap brunch menus that you cannot miss out on.
2. Billy's Brunch
Addresses: C/ de Bailèn, 115, 08009
Billy Brunch & Garden : C/ de Muntaner, 64, 08011 Barcelona
Billy Café : C/ de Bailèn, 113, 08009 Barcelona
Billy Brunch & Loung : C/ de Blai, 28, 08004 Barcelona
Billy Brunch & Park : C/ de Jaume Giralt, 53, 08003 Barcelona
Price Range: 10 to 15 euros
Vegan/Vegetarian Options: Yes
Billy's Brunch is a crowd favorite, and a personal preference for hangover cures. You cannot reserve, so try to go during non-peak Brunch hours if you want to avoid long queues. If you manage to get a seat on time, their brunches are rapidly served, filling and tasty. Moreover, if you go to Billy Brunch & Garden, you can also enjoy the garden with chickens!
3. LULU & FLYN
Address: Av. del Marquès de l'Argentera, 7, 08003 Barcelona
Price Range: 8-15 euros
Vegan/Vegetarian Options: Yes
This small restaurant has classic brunch options, but the quality of the food is very high. The restaurant has overall very good reviews with customers being happy with the range of food and the kind staff. The restaurant was founded and is owned by three female friends who state that their mission is to use local and organic products as much as possible. The place feels local and cosy. 
5. Gabby's Brunch
Address: Carrer de Ramon Turró, 93, Barcelona
Price Range: 8 – 16 euros
Vegan/Vegetarian options: Yes, but not as much as the other suggestions on this list
This brunch place has a calm outdoor space to eat, and the food feels and tastes luxurious due to its high quality and presentation, while it may be on the pricier side, it definitely feels like a treat having their homemade food here. It is also a nice change to have an outdoor eating space that is not on the loud Barcelona streets, instead here you can eat in the garden.
---