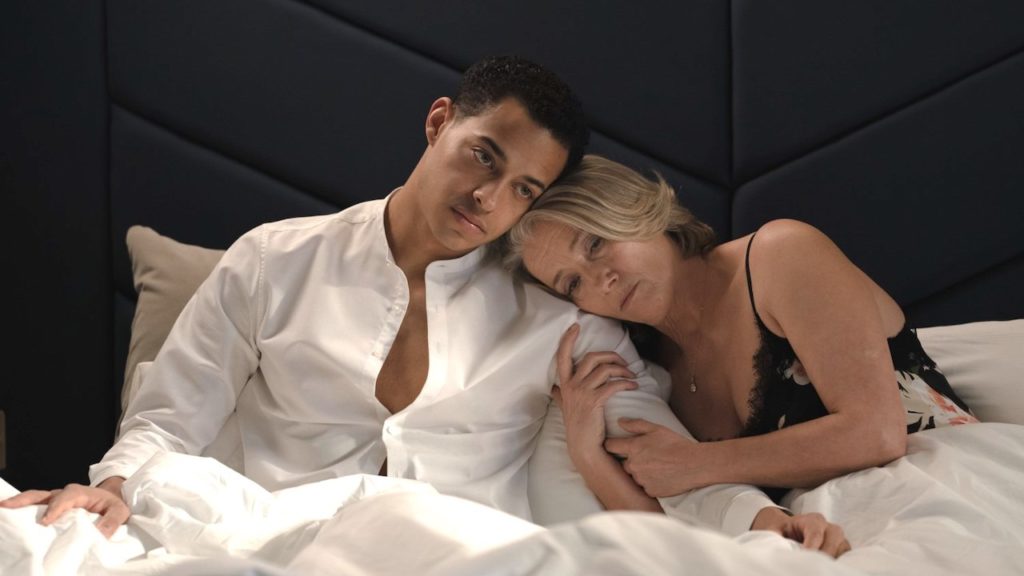 Good luck to you, Leo Grande : Emma Thompson tries to take us in search of pleasure and meaning of existence
Sophie Hyde presents her new work "Good Luck to you, Leo Grande", after several independent projects. Led by Emma Thompson along with young Daryl McCormack, they tell us a little story with sex as a common thread.
Nancy Stokes, played by the wonderful Emma Thompson, is a retired widow who hires the sexual services of Leo Grande. She has only ever had sex with her husband and after thinking about her fantasies a thousand times, she finally decides to take the plunge and have a new experience. Like the story, Good Luck, Leo Grande is a simple film, without great boasts, supported by the two actors who leap off the screen thanks to the good chemistry they exude. They talk, get naked and fuck.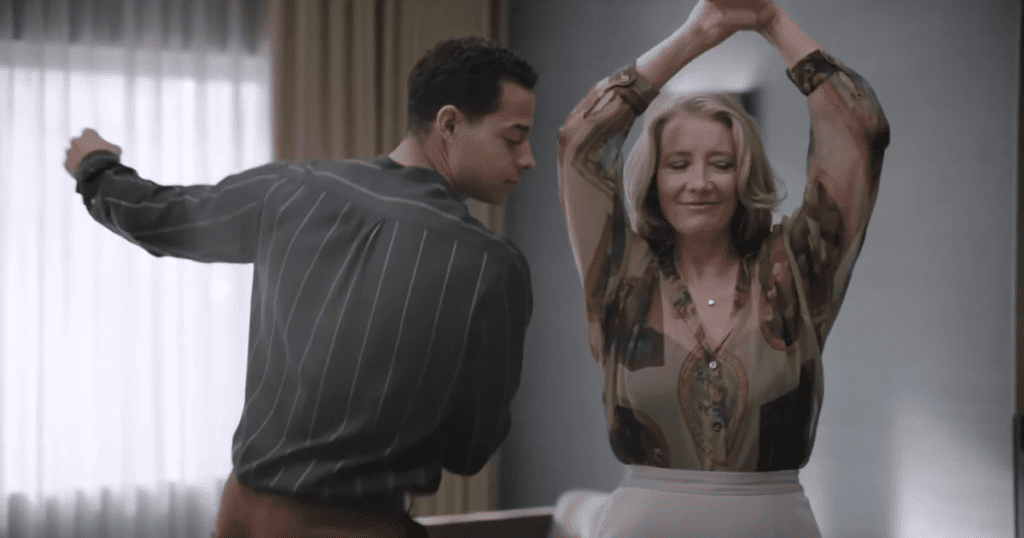 The protagonist's encounters with the young gigolo are pure magic. She, who has lived and inculcated sexual repression, now realizes that she needs to let off steam. But unlike the men who come into the room unload and leave, Nancy needs to go little by little and let go of the ballast she carries inside. On the other hand, Leo Grande is a superman, beautiful eyes, a perfect face, a body without a single gram of fat and abs that take your breath away. He is a professional who knows how to take his client wherever she wants to go.
Sophie Hyde doesn't need much. With a room, two actors and good dialogues she has enough to tell a movie. Divided into four encounters, the director unmasks the protagonists. Leo Grande sells fantasy, an idealized relationship and Nancy needs something more. She needs to meet and connect with the gigolo. Perhaps it may seem that this simplicity is a bit poor in terms of staging, but the director shows that she does not have to make great boasts to create good moments. In its simplicity lies virtue.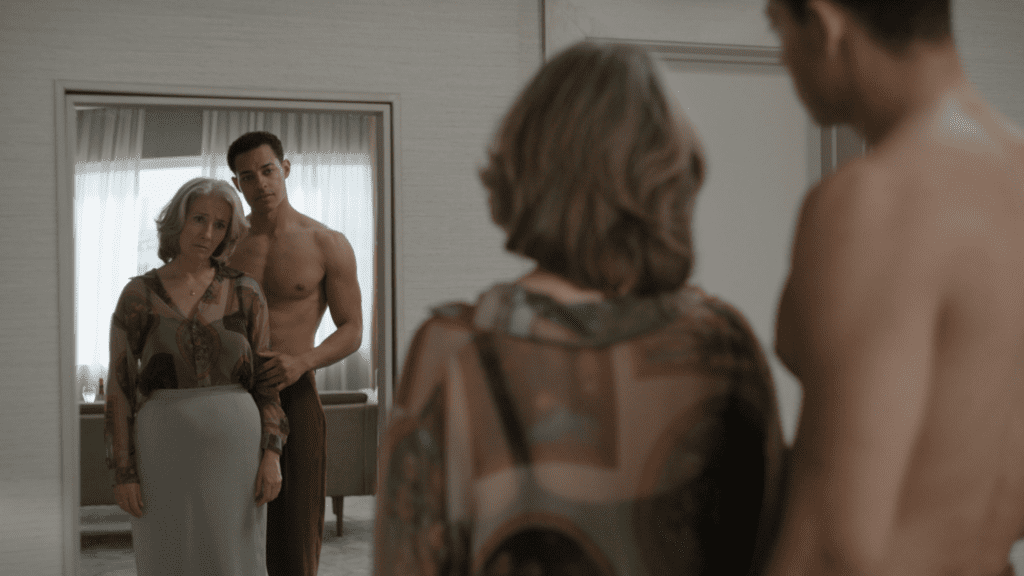 The movie sparks some interesting and very topical reflections around the theme of prostitution. Across the U.S., prostitution is illegal and the film is a great insight into the business. It does not obviate that there are sex slaves, but in Leo's case, it is merely professional. A free man who chose a certain job and he likes it! It is a business he enjoys knowing what the limits are.
Leo is very conscious about it and he knows that he is hired to fulfil the client's phantasies. Whereas for Nancy, the line of fantasy and reality is very fine and perhaps (for some time) non-existent. When the time is up, like in Cinderella, the fantasy is broken and Nancy needs to go back to reality.
Emma Thompson's role is surprisingly delicate and delicious at the same time. The actress makes the most of it and gets all the juice out of a character with many fears, embarrassments and insecurities. Many women of her age when they see the film will feel represented. A generation that has lived repressed their sexuality and do not even know the pleasure of an orgasm. Her character is the most nuanced, unlike Leo who turns out to be a character with less development throughout the movie. Emma Thompson is brave and goes a step further and is not afraid to undress. Who cares if her body has aged or her belly is flabby or her breasts are sagging… in short, she's a woman in her 60s getting to know her body to enjoy it!
The naturalness with which sex is talked about and shown is a marvel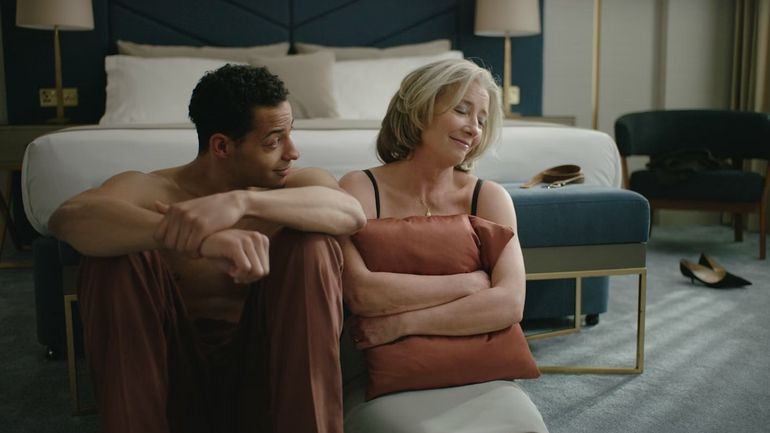 There are no holds barred in having a conversation about oral sex or capturing on screen the lust between the two of them. It manages to break down the viewer's prejudices and, like Nancy, we see beyond a few wrinkles. The farther away from shame, the closer one is to being a freer person. Nancy, a professed religious woman, is a clear example of this. Years of being locked in a repressed cage has helped her to shed her shame through her encounters with Leo.
It may seem that Good Luck to you, Leo Grande is a film aimed only at women in menopause, but that would be a catastrophic mistake. The film can reach everyone. Surely one will look in the mirror after watching the film and find an imperfect body with a desire to enjoy it. Sophie Hyde moves between comedy and light drama. It is not a film that will make you laugh, nor does it pretend to, nor will it make you cry. Everything is in a very light tone that at the end leaves the taste of having enjoyed a small but magnificent film. It is one of those films that simply leave an overall good sensation.
.
---