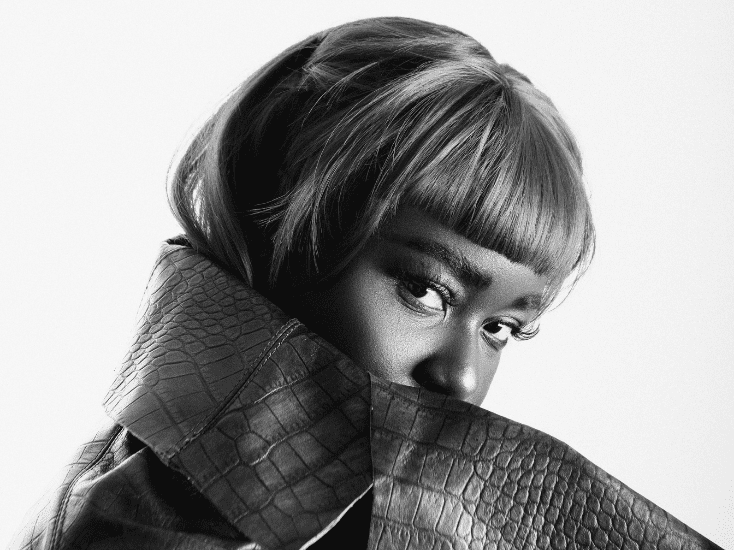 Namasenda: hyperpop made in Sweden
Namasenda, rising star of hyperpop, was in concert on Sunday 6 November at the Botanique in Brussels. Materialised from her cyberpunk universe, the Swedish singer is currently on tour across Europe!
8pm on Sunday 6 November. A small, colourful crowd waits at the entrance to the Witloof Bar, the basement room of the Botanique in Brussels. The set of Namasenda, a Swedish singer with a futuristic aesthetic, has been postponed to 8.30 pm. "Thank you for coming. I thought no one would be there", she confided in English at the end of her set. A wrong assumption, because the room, far from being empty, was sparkling with energy and singing along to her songs from the very first track: the euphoric Finish HimHim from her album Unlimited Ammo.
Signed to PC Music and influenced by hip-hop and trap, Namasenda delivers electro-pop with a dose of sci-fi – if you can imagine what a music star would sound like in the world of The Matrix or Blade Runner, you're not far off Namasenda's style! Her lyrics focus on the difficulties of her love life as well as the idea of a simple ride in her Volvo; eclectic themes and a world influenced by technology, internet culture and consumerism, which reflect well the musical genre of the hyperpop. This reflects the genre of music of her label, to which she belongs.
Hyperpop, a rising musical micro-genre
Having collaborated with Charli XCX and producing artists such as the British Hannah Diamond or the French band Planet 1999, the label PC Music was founded in London in 2013 by producer and dj A. G. Cook. It was only six years later, however, in 2019, that Spotify introduced a playlist called " Hyperpop It was six years later, however, in 2019, that Spotify first introduced a playlist called "" on its platform and that the genre became popular, especially among the young internet native generation and the LGBTQIA+ communities. For her part, Namasenda released her first single in 2016, followed by an EP entitled hot babe 93 in 2017. Released in October 2021, Unlimited Ammo is her debut album. It features the energetic, playful and innocent style of her debut alongside more experimental tracks, still with the robotic-sounding vocals, overloaded production and a healthy dose of irony characteristic of hyperpop.
Of the tracks played in Brussels, Finish him, Vvolvo, Banana Clip, ☆ (ft. Oklou) and Donuts stand out as highlights of the evening. For those curious to hear more, I'd add some personal favourites: Dare (AM), No Regrets and Steel (ft. Hannah Diamond). With her angelic, self-tuned voice, self-assured confidence and crafted aesthetic, Namasenda is sure to seduce at every stop on her European tour. Her Unlimited Euro 2022 Tour started in Copenhagen at the beginning of November and will continue until the beginning of December. After Belgium, Namasenda is currently in Spain and will then perform in Lisbon, Cologne, Prague, London, Bristol and Dublin!
---